Flash Deals
Ends in
23:25:45
146 sold
Romoss OM10 10000 mAh Mini Power Bank
Rs. 2400 Rs.2999 + Free Delivery
Bought by 137 people! HOT SELLER!
Key Featuers
Never let your phone battery die by using our best mini power bank!
Its super compact size makes it portable

Available with three separate input ports and dual USB outputs

LED indicator displays the battery percentage

 Charging and Storing by just one cable

FitCharge technology, overpower protection
Description
Does your phone battery often die while doing work or some other important task? Then buy a power bank offered to you by Laptab.
Our mini power bank is sleek and elegant without compromising on any features. With three separate input ports (Micro USB, Lightning, and Type C) you will be able to keep a wide array of devices charged.
In the bargain, it has dual USB outputs, which allows two devices to charge simultaneously.
The Romoss OM10 utilizes Fit Charge technology which gives it the capability to recognize device-specific charging requirements. This makes the OM10 compatible with a wide variety of devices.
What's more, with a compact design, the mini power bank 10000mah is both powerful and feature-filled. The boasting FitCharge technology with the three input ports and dual output ports makes it a great all-rounder at almost half the normal size of a traditional power bank.
Additionally, the digital LED indicator displays precise battery percentage. The super compact size of the mini portable charger makes it easy to hold in hand or fit perfectly in your pocket or purse.
What is the box?
1x OM 10 Mobile Power
1x Outer Box
...
Read more....
Our Happy Customers
Images uploaded by customers: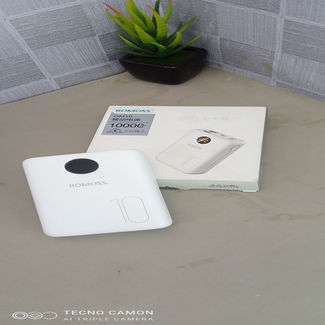 Specification
1x Instruction Manual
Brand Name:ROMOSS
Type:Emergency / Portable
Output Interface:Double USB
Battery Capacity(mAh):10000mAh
Support Quick Charge Technology:Two-way Quick Charge
Output:5V/2A
Battery Type:Li-polymer Battery
Input Interface:USB Type C,Micro USB,Lightning
Supports Solar Energy:No
Quality Certification:CCC
Is LED Lamp Illumination:No
Weight:213g
Size:L94.5xW69xH24mm
Color:white
Model: OM10
10000 mAh Lithium Polymer Battery capacity
Ultra-thin Powerbank
Rated Power: 36Wh
Input: (Lightning/ Micro USB/ Type-C) 5V:2.1A
Output 1: 5V:2.1A
Output 2: 5V:1A
Shell material: Plastic
Rating & reviews
Read what others have said about us:
QUESTIONS & ANSWERS
Frequently asked questions
Romoss OM10 10000 mAh Mini Power Bank
Rs. 2400 Rs.2999
Never let your phone battery die by using our best mini power bank!
Its super compact size makes it portable

Available with three separate input ports and dual USB outputs

LED indicator displays the battery percentage

 Charging and Storing by just one cable

FitCharge technology, overpower protection