Flash Deals
Ends in
23:25:45
222 sold
Tractors for Cervical Spine
Rs. 1399 Rs.2500
Bought by 111 people! HOT SELLER!
Order NOW, and get it on this Wednesday
To treat the problems of end-nerve cervical spine
For People, who Have Cervical/Spine issues or office worker who seat at office at the whole day.
It can subside the symptoms. It is easy in operation and safe and efficient in the treatment
Three layers of separated type which can be a perfect Cervical Spine Neck Tractor
Made up of air bag, lining bushing, the conduit
Description
Features:
It is suitable to treat the problems of end-nerve cervical spine
Fabric covering adopts high-grade anti-allergy straight flannel material
Air charged ball is high-grade Latex copper valve ball
Airway is equipped with rolling ball-type air stopping valve
After air charging, it is possible to pull out the air charging device at the place of plastic joints
Package Contents:
1 x Air Bag Tractor for Cervical Spine Neck Massage Massager
Read more....
Read less....
OUR Happy Customers
Images uploaded by customers: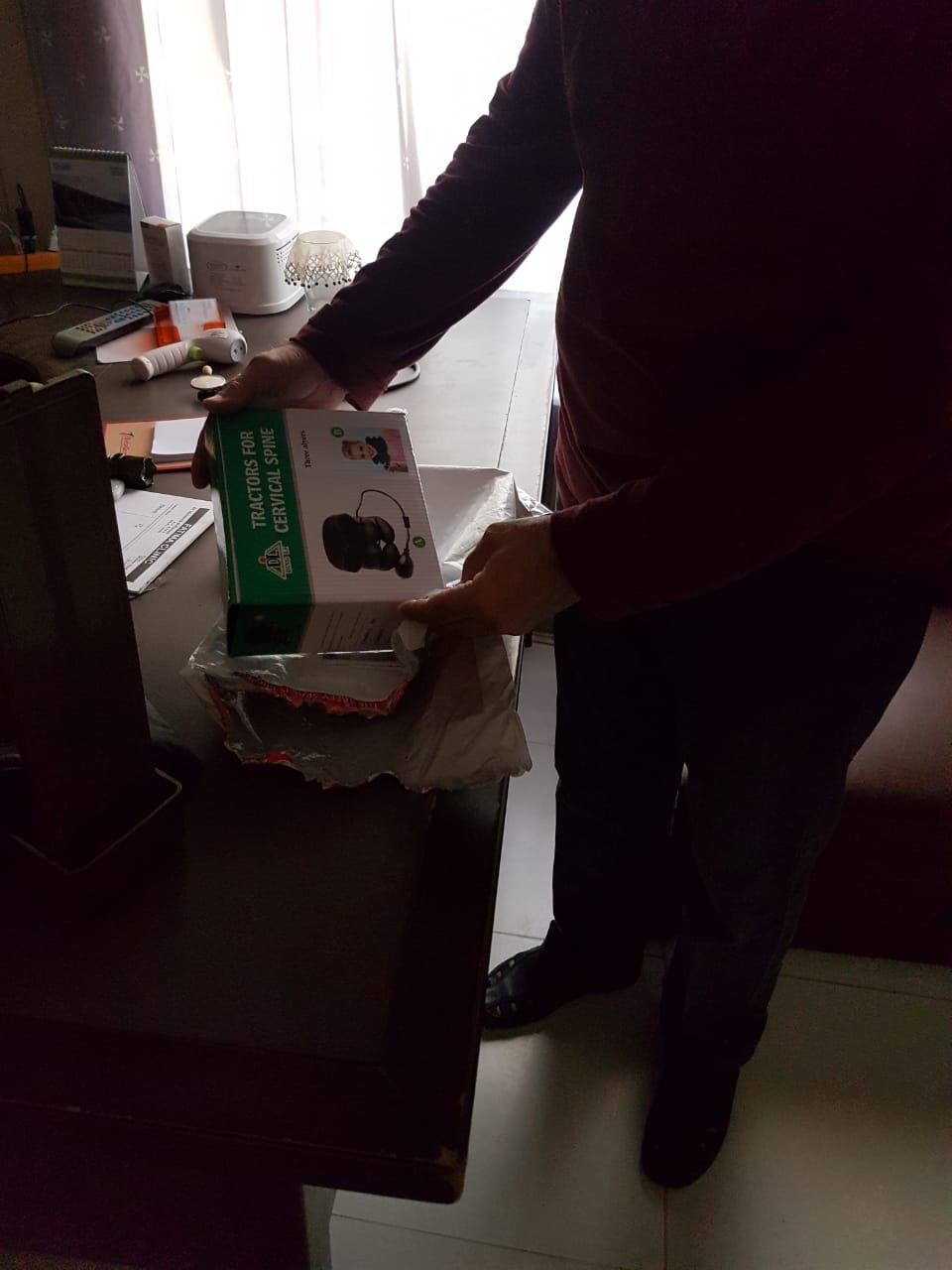 Specification
.This product is mainly made up of air bag, lining bushing, the conduit, plastic attachment, the valve of the tractor, the inflatable ball, the nylon adherent buttons and so on
Directions
1. Wear a portable cervical tractor in a right way, the two Velcro up and down are designed to suit different people of different neck circumferences
2. Please tighten the deflation nut before you inflate ball up
3. Use inflatable ball to pump up until patients feel much better and the inflation intensity is appropriate
4. Fixed traction treatments should be at least 2-3 times every day and each time at least 30 minutes
5. Loosen deflation nut after using it and then deflate slowly
Use notes: 1.Tighten bolts well before inflation, and especially remember to compress the rubber gasket and place it on deflation hole and please don't put the cart upside.
After inflation, move the control valve of the long tube upwards to slow down the deflation speed.
2.Push back the control valve when deflating and loosen the inflation ball nut.
3.If you will not use it for a long period, please don't fully deflate the gas inside, and place it in a shade for a better maintenance of the latex bag.
4.Usually, cervical spondylos is patients accepted traction treatment usually should have a rest or move around after working half an hour. Besides, the pillow should be appropriate.
Rating & reviews
Read what others have said about us:
Plz inform me about this cervival pad is this useful of wast of monu plz

???? - 2019-09-22 13:39:44
Adeel bukhari - 2019-09-15 17:03:21
QUESTIONS & ANSWERS
Frequently asked questions
Be the first to ask a question about this.
Ask a Question
---
Tractors for Cervical Spine
Rs. 1399 Rs.2500
To treat the problems of end-nerve cervical spine
For People, who Have Cervical/Spine issues or office worker who seat at office at the whole day.
It can subside the symptoms. It is easy in operation and safe and efficient in the treatment
Three layers of separated type which can be a perfect Cervical Spine Neck Tractor
Made up of air bag, lining bushing, the conduit