Flash Deals
Ends in
23:25:45
125 sold
12 Pair Shoe Rack
Rs. 1800 Rs.3500 + Free Delivery
Bought by 102 people! HOT SELLER!
Key Featuers
Organized for up to 12 pairs of shoe
Convertible and assembles in few minutes
Accommodate many different sizes and styles of footwear
Description
Every home needs a Shoe Rack. This keeps all the shoes and relevant objects in one place and you do not have to find them. This fine design of Shoe Rack is modern. This modern design is versatile which can organize for up to 12 pairs of shoes with accuracy and care. This shoe rack is convertible and assembles in few minutes. This means, you cannot shift it from room to another, you can also take it along to another place in case you are going on a vacation. Purchase your show rack from Laptab from the Best Rack Price in Pakistan.
 You can arrange your shoes in multiple configurations depending on what you like and how you like it. With the assistance of this shoe rack you can easily pick your desirable shoe from all your footwear options. Moreover, it is comprised of 3 feet tall, which is ideal to cover a good amount of space to manage your things. It is compact and saves a lot of space. This space-saver holds up to 12 pairs of shoes in less than 2 feet of floor space. It has non-slip compartments which will make sure that your show remains fit.
...
Read more....
Our Happy Customers
Images uploaded by customers: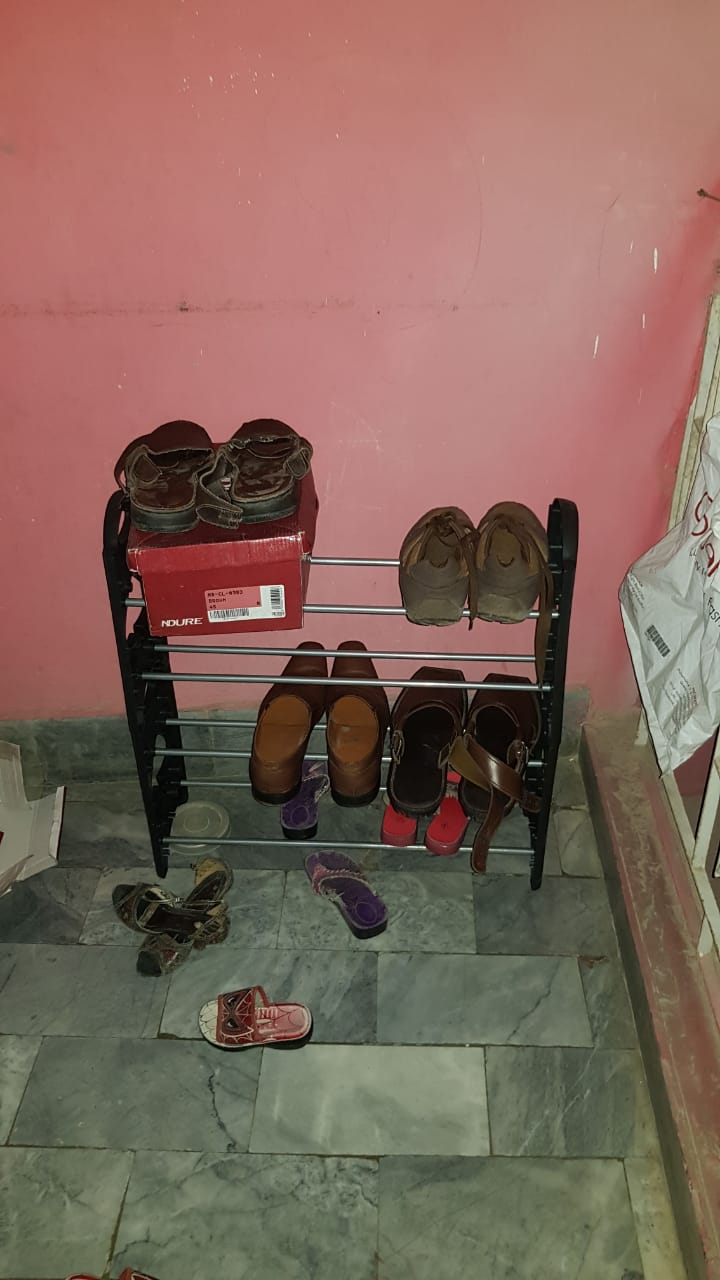 Specification
| | |
| --- | --- |
| Primary Material | Metal; Plastic |
| Finish | Black |
| Pairs of Shoe Capacity | 12 |
| Stackable | Yes |
| Country of Manufacture | China |
Rating & reviews
Read what others have said about us:
bad bad .you told as it is but it was not. you showed big shoe rack and send small. it is your misconduct. i will never buy any thing from you

ayesha - 2019-05-15 09:06:38 -

Verified Purchase
---
very sorry to say that was a really very bad experience of my life. now i dont have any trust on online shopping...

Muhamnad Zubair Shah - 2019-05-13 11:12:44 -

Verified Purchase
---
QUESTIONS & ANSWERS
Frequently asked questions
12 Pair Shoe Rack
Rs. 1800 Rs.3500
Organized for up to 12 pairs of shoe
Convertible and assembles in few minutes
Accommodate many different sizes and styles of footwear