Flash Deals
Ends in
23:25:45
220 sold
Drone Tracker Camera
Rs. 4500 Rs.9000 + Free Delivery
Bought by 100 people! HOT SELLER!
Key Featuers
HD Result 720P Camera
To catch great selfies effortlessly
To capture the photos and record the videos
To provide a stunt aerial show
Built-in barometer
Can Fly to 100-150 Feet
10 minutes flying time
Control by your Smart Phone
Description
Are you a Selfie master and want to take pictures in innovative ways? Drone Tracker Camera is an HD quality with high resolution of 720P camera enables you to capture the photos and selfies with more unique and stylish ideas. You can use it in professional photography to take photoshoots from different angles and sides. This is the best solution to save your memorable moments in a versatile way for a more extended period. The drone camera gives you a facility to get photos of natural sceneries and stunning landscapes that you did not take from any ordinary camera before. It also provides the facilitation of unlimited pictures and selfies without any problem of hanging it up.
Further, the best quality of this drone camera is its pilot loss-of-orientation, which enables you to get a lot of pictures without handling the camera and enjoy your beautiful moments freely. You can also record the videos to save your essential events without hiring any photographer and movie maker. You can enjoy aerial stunt show with its amazing 3D flip quality. Also, Drone photography has given you a stable flight to capture your precious moments because of its built-in barometer elevation hold function. You can fly the drone camera almost 100-150 feet with 10 minutes operating time. You can manage your camera with the help of wifi remote control, and the WIFI control distance is about 30 meters. You can also search for other varieties of Drone Cameras such as Selfie Drone and Drone Photography.
...
Read more....
Our Happy Customers
Images uploaded by customers: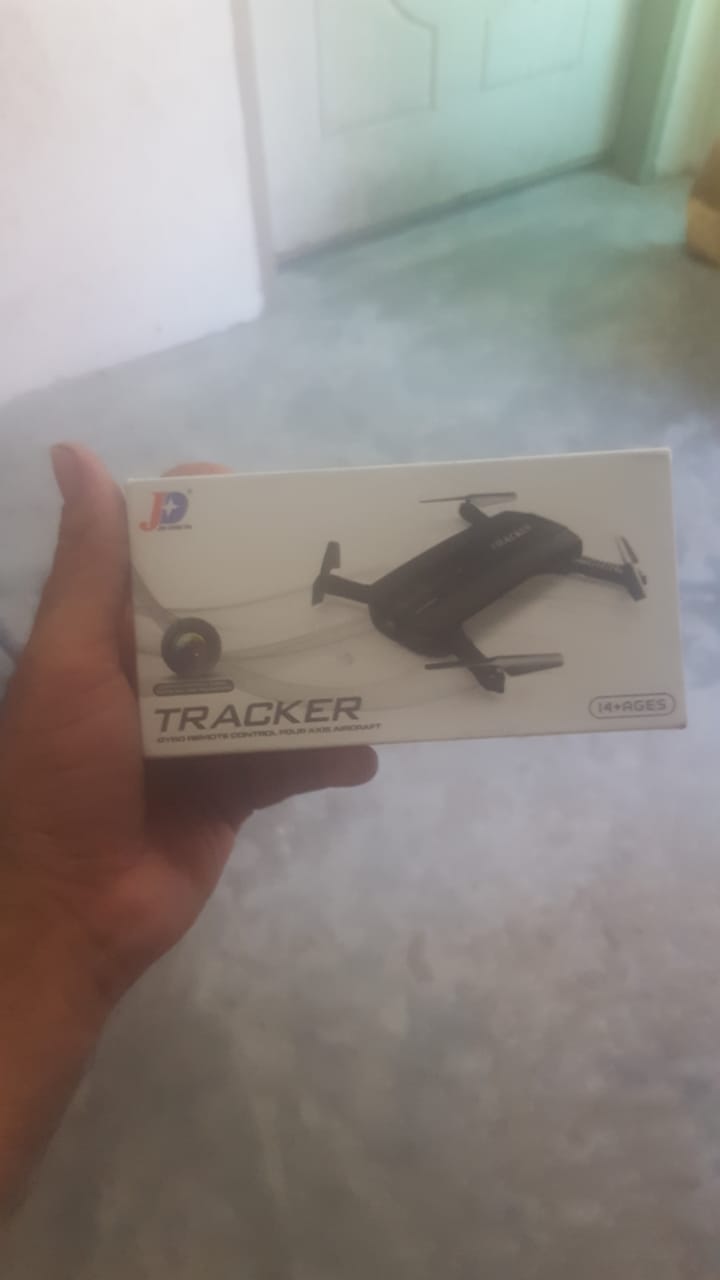 Specification
Specifications
Item Name: 523
Built-in Gyro: 6 Axis Gyro
Channel: 4CH
Remote Control: WiFi Remote Control
Material: ABS & electric components
Control Distance: About 30m
Battery: 3.7V 550mAh lipo battery
Charging Time: about 60mins
Camera: 720P
Product weight: 76g
Product weight(battery excluded): 60g
Rating & reviews
Read what others have said about us:
Satisfied ????

- 2019-11-19 18:00:13 -

Verified Purchase
---
I received this product and found that its battery was not charging .....I called LapTab and someone told me that their agent in Lahore will contact me to resolve the issue...but unfortunately no one bothered to contact me.....I am not able to use the product unless its battery charges.....hence find it useless...and worthless...

Idris Qamar - 2019-04-27 13:33:40 -

Verified Purchase
---
Sir Jo order kia ta abhi tak receive nahi hua Ek Hafta ho gaya hai pura

Muhammad Hasnain Qureshi - 2018-03-23 22:11:09 -

Verified Purchase
---
whats a battery timing during flight, and with out flight making video.

honey - 2018-03-22 18:43:33 -

Verified Purchase
---
Nice its working i like it

Asad khalil - 2018-03-06 01:06:58 -

Verified Purchase
---
- 2018-03-01 17:48:20 -

Verified Purchase
---
i want to know the price of this cameras in pakistan rate . and to how to we can see the view of this camera???/

HUnza hashmi - 2018-01-30 17:36:36 -

Verified Purchase
---
QUESTIONS & ANSWERS
Frequently asked questions
Q: its camera is straight .How will it can coverage in its under side view of earth
A: Awaiting reply from the Team
Q: Warranty period, maximum height it can attain,
A: Awaiting reply from the Team
Q: Flying time kitna ha
A: 10/15mint flying time ha
Q: 1.How much is flight durition? 2.Please give me information about camera pixcel.
A: 100 or 150 feet height 10mint fly time 720p result quality
Drone Tracker Camera
Rs. 4500 Rs.9000
HD Result 720P Camera
To catch great selfies effortlessly
To capture the photos and record the videos
To provide a stunt aerial show
Built-in barometer
Can Fly to 100-150 Feet
10 minutes flying time
Control by your Smart Phone