One doesn't need an awe-striking bathroom with luxury items and marble everything to make it beautiful. In fact, sometimes, the best idea is to simply add a seamless vanity, a round mirror, some wall mounted fixtures and the toilet of course. This detail is seemingly simple and not so impressive but it has the power to entirely transform your bathroom demeanor.
Whether your bathroom space is refined and traditional or chic or contemporary, no bathroom is complete without accessories. But where to install them is just as important as how they look. So make sure you determine the best place for each accessory to make the best use of them. Start simply by adding a place for towels then toilet paper racks, mirror, bath robe hangers, storage racks and so on.
Are you planning a bathroom renovation or simply looking to enhance the look of it with simple changes in accessories? Whatever it is, we have just the right accessories for you. We rounded up our
bathroom accessories
in a nut shell for you to discover and choose what suits the best for your bathrooms.
Bathroom Racks
Aside from the shower or bath tub, toilet bowls or basins consider a set of bathroom accessories to accommodate the necessary bathroom items. Installing a decent
Corner rack
or
Storage rack
to give house to your certain bathroom equipment will be useful.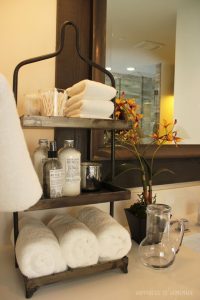 If you are worried over organizing your wide range of
cosmetic accessories
you may install
Multifunction storage rack
or
Multi Bathroom Corner Shelf
that provide you the luxury to accommodate your items separately according to needs.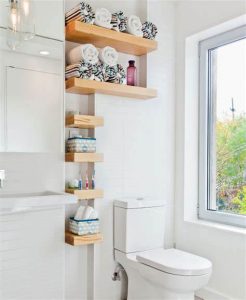 Also, the
Drain storage rack
doesn't allow liquids to stay put in rack and allows drainage, thus preventing any threat to the durability of your equipment. Therefore, its addition ensures longevity.
Towel Hangers
There is nothing less comfortable than washing your hands at someone else's house only to realize that there's no towel in sight to dry the hands from. Don't be that kind of host and bring a towel holder whether it be
Towel hangers , Bath towel rack or  4 arm Towel stand
for your bathroom counter and have a set of
hand towels
for guests by the sink to avoid any discomfort.
Laundry Baskets
While doing laundry, keep your dirty clothes managed with the help of
Foldable Laundry basket
that keeps your clothes in place without causing you much hassle. It can be placed besides the washing machine while empty or full of clothes. When not occupied, fold the basket to ensure a clean look to the viewers.
Keeping your detergents in a basket avoids any spillage or messy look as a result of it. Hence, having  
Detergent storage basket
won't be a bad choice.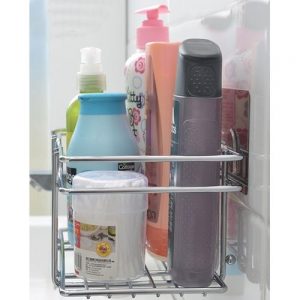 Bathroom Dispensers
No one wants to wash their hands with a sticky soap bar that's been frothing in a grimy puddle by the sink (obviously). So spend a few extra amount on hand wash and bring
Hand wash Dispenser
for your bathrooms and kitchen. To give a luxurious look to your bathroom you may also install
Automatic soap dispenser
or
Double liquid soap dispenser .
Do not struggle to squeeze the toothpaste tube and get yourselves a
Toothpaste Dispenser
.
With the help of toothpaste dispenser, you no longer have to go through the hassle of squeezing out too less or too much amount of toothpaste. Toothpaste dispenser exudes the right amount of toothpaste for each brush.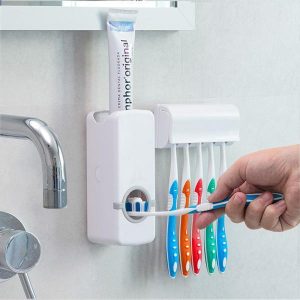 In this era of utmost epidemic outbreaks, it is recommended to cleanse your hands regularly to save yourself from the disease causing germs. To ensure safety of yourself and your loved ones keep a stock of sanitizers but to ensure proper use of sanitizers consider adding
Sanitizer dispenser
to your bathrooms.
Bathroom Décor
Everything from fabric to furniture brings different texture into a space. Décor can be used to enhance the room's existing features or provide added dimension to a space. Similarly, decorating your bathrooms lighten up their atmosphere while casting out the boring one. To add to your bathroom décor- firstly, get a
Bathroom accessories set
for your counter top providing it a sleek and elegant look.
Toilet Bowl Night Light
is very much appreciated as it gives your toilet a cool appearance. Children especially look up to the glowing toilet bowls so, if you have children in your home, adding some light to toilet bowl might be a good choice.
To have a good and elegant set of showers and taps in your bathroom is a best way to boost the decor. Thus enjoy decoration as well as bathing with
Multimode Shower head
or
Double sided Shower Head
as they will complement to your bathroom décor along with your relaxing showers simultaneously.
Bathroom Cleaning
Cleaning is the first and foremost task one has to do to guarantee perfection. Decorating your bedrooms, living rooms, drawing rooms or bathrooms is of no use unless they are clean and tidy. So, keep your bathrooms clean with the help of
Bathroom cleaning set
that contains everything you might need for making your bathrooms spotless.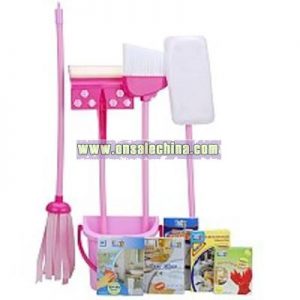 Want to check out our wide range of
Bathroom Accessories
? Feel free to as we assure you that your trip won't be a waste of time. And don't forget, you can conveniently contact our team that is available 24/7 to respond to all your queries and problems. Therefore, don't hesitate and keep in touch!!!