What To Expect from an Android TV Box? Don't have budget to Buy Smart TV/LCD? Want to Enjoy all Dish Indian,English, Pakistani Channels Live without Monthly Subscription Charges? Or Love Enjoy Youtube, Vides/Online Movies/Videos, Games and Apps from Google Play Store on Big Screen? No Problem? Android Box is the Best Solution for all these. To get you the right knowledge of thing, Laptab brings you a self-help portal blog, accumulating all the information, you require, at one place. What is an Android TV box? An Android TV box, also known as KODI box, Streaming box or OTT box which is especially made for streaming purposes with much of the add-ons pre-installed in the interface to provide you a soothing experience to start with. What is Kodi? Is it even necessary for your Android TV box? Kodi is a software especially built by XBMC foundation. The Kodi sometimes come pre-installed with the Android TV boxes and they are one of the reason to provide you with one of the best ravishing experience of using Android TV box. As Kodi is an open-source media player, it allows you to play games, stream-media, video chat and much more with the minimum possible cost. Since Kodi is that software which is compatible with most of the hardwares' present on an Android TV Box, you will experience an ultimate experience with 1080P streaming with no stutter.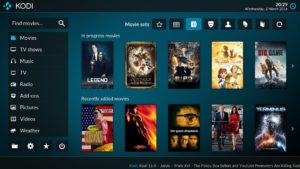 Well, is it even possible to get 1080P video quality using Android TV box or it is just a hoax? This question arises in the minds of many smart people and there's only one unique *every-day* example from our lives that tackles this question very smoothly. I bet you have seen Smartphones promising a 1080P clear video with no stutter or fading. How is it even possible to get that kind of video quality on a smartphone –like small device? Honestly speaking, this era of technology have much to show you. The processors used in smartphones are responsive and powerful enough to promise you that. Similarly, if you are looking for a video quality better than the TV you possess right now, then look for H.265 Hardware Decoding and 1080p/3D support in your Android TV box. Conclusively, Yes! It is possible to get that picture quality with best responsive hardware from an Android TV Box. Do you even need to get one? To start with, It is basically depending on your paradigm and needs whether or not if you are really compelled by the functionalities and the catering of needs of yours. This TV Box can be used as a Mini Computer. You can surf the web. Live stream videos. Watch movies through your USB or HDMI cable. You can even video chat with your loved ones. Use it as a personal Android powered gadget. Play games. Connect consoles and much more as you online buy this remarkable product. If you desire all these things at one place then hold on, this Android Kodi TV box is your need. Why Android TV Box Kodi is the best option for you? As well all might know, the fact is, this era has faced a major paradigm shift in these developing years and everyone wants to upgrade their gadget needs to nurture themselves with the best experience of all times. But the bitter reality is not everyone is able to afford a High-quality all new Samsung HDTV Smart TVs or TCL since their prices are very steep. Now here an Android TV Box can serve its purpose where it is cheap, easy-to-use and a perfect addition to your family of gadgets. And why KODI must be present in your Android TV Box? It is because it is able to serve its users with a 10 foot UI with remote and TV control usage at the best of your experience. What to look for in an Android TV box? There are plenty of Android TV boxes available in the market having a diverse range. Now since, you are not frequent user of any Set Top Box this question is not alien to you, "What to look for in a Kodi Box?". Laptab.com.pk has adjusted a list for you which you can compare with the Android TV box you are buying so that you can make sure whichever you are buying is the best option for you.
Android TV Box should be running the android version of 5.1(Lollipop) or higher.
It is best recommended that Android Kodi Box you are online buying should be running the required version of Android because these versions are best compatible with the new apps present on Google play that you can download. In rare cases, Some Android Set top Box run an older version of Android which in some cases is beneficial , since they support the hardware present in them the best. But still beware and online buy the one with the latest Android.
265 Hardware Decoding Look for this feature before going for any Android Box. This is the unit that actually helps in providing a good quality picture to you.
1080P/3D This feature is not specifically available on some of the devices but is widely available on the Android TV boxes especially chosen for our customers. Its need can be discussed in an example which is a person can watch a movie(cam quality) which is free and a high quality/high-definition picture video quality. The only difference between two is of the *Experience* that one has to enjoy.
Dual Band WiFi and/or Ethernet You may not know but you can also use your Kodi Box as a mini computer. So if you are planning to use it as a computer too, then make sure to find this quality in your Android TV box.
USB/HDMI ports These ports are equally necessary. Make quite sure before buying your favorite searched Android TV box that it has these ports so that USB, Keyboards, LCDs, LEDs and other consoles can be attached via.
RAM and ROM The fact is simple. The more RAM you get, the more fast and reliable your TV box gets and the more ROM you get, the more space you have to store things. RAMs in most of the Android TV boxes ranges from 1-3GB DDR3. Whilst the most general ROM you would find shall be around 8GB or so. It up to your choice to go for the one you need most. Also check for *expandable storage* feature if you know you would be needing plenty of space to store things.
Laptab.com.pk suggestion: We at Laptab always make sure that our customers get what they want and it is always beneficial for them. Taking forward this purpose, Laptab introduces a list of best Android TV boxes among which you can choose from if you like.
Well, this one was an interesting overview of What to expect from your Android TV Set-top Box. Laptab.com.pk now leaves the decision on you. Go for the best and forget the rest! Also check one of the Laptab's dedicated category for Android TV boxes that are indubitable available at the best price in Pakistan with guaranteed trust!. Happy Buying, otherwise!