All you need to know before buying that selfie stick
A selfie stick as we all now know is a metal rod-based device which is used to hold the smartphone to take wide-angle photos and capture more stable videos to say a few. The selfie stick trend has been in for a while now and everyone wants to buy it. But is the stick you are looking for good for your needs? First of all, What is a selfie stick? A selfie stick is a personal monopod that can rest your smartphone to take exceptional wide-angle view photos without you to ask anyone for taking your photos. It has become a great personal device to be used at times of recreations and any trips. Everyone wants to buy it because of its being so much trendy these days. Although, these selfie sticks had been in the market for a while now but the trend has started just months ago. However, setting aside the simple use of selfie stick a buyer must know some things before getting their hands on products. A good product, as Laptab knows, would carry on with you for a longer time. Further read on to get a proper guide buying these trendy pieces of tech.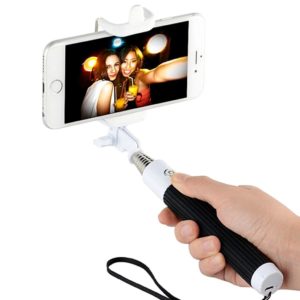 Are there any variations in the types of selfie sticks in market? Well yes. Give it a search on Google or Laptab and you see hundreds of different selfie sticks with different design, functions and capabilities. Right at that moment, you'll feel confused about which selfie stick you should buy and which you should not. Well mostly people go for the sticks with highest ratings or price but Laptab has not failed in telling their customers that pricy things are not always good and there can be some products that can serve the same purpose with acceptable quality and that too in a cheap price. However, all the selfie sticks provide the same usage and almost have the same qualities you still need to see which one suits you more rather than which one has a highest rating. Certainly, you should go for the selfie stick with highest rating and reviews if you are buying it for the show off but continue reading if you really want to buy a piece of tech that can prove to be a beneficial deal for you. Length (Folded & Extended) The most appropriate selfie stick for a common user is one that is portable or transferable and can be accommodated in even less spaces. Often, the folded length of a selfie stick is ought to be almost 8 inches. Yet some of the companies make such type of sticks that are further foldable and can easily be accommodated in a purse, bag or sometimes in a pocket as well. While the folded average length remains about 8 inches, the extended length of rod is suggested to be at a minimum of 30 inches. However, 40inches is a better option as well. Selfie sticks need to cater for you a view angel view that can accommodate all of the group into a single selfie, so the recommended length of selfie stick should have to be at a minimum of 30inches.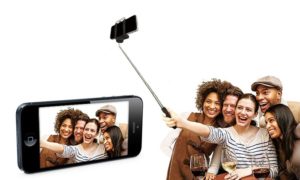 Adjustability of the mount and holder Practically every selfie stick comes with a mount or holder that can hold your smartphone device restricting its movement. On the other hand, there are hundreds and thousands of different type, shapes and lengths of devices which may or may not get into the hold of that mount. This is specifically a very necessary quality that you should check in a selfie stick before buying one. Laptab doesn't want that your iPhone 6 Plus in a selfie stick holder comes on to your face when you raise it vertically to take a cool selfie but end up getting a black eye and a cracked screen. Before buying a selfie stick, make sure that your device can get a good hold in the mount and for that check the manual for your device compatibility. Furthermore, there are some selfie sticks whose mounts/holders can rotate 180◦. Laptab found out that almost every selfie stick can rotate to give a wide-angle view providing selfies to be taken from different angles. Build Quality Virtually, this might seem pretty obvious. It is a well-known myth that the more you pay the better quality you get. Well that is not true. As some you might end up getting a poor build-quality product at a steep price. You don't have to measure the build quality with the amount you pay for it. Just keep a check for your device compatibility. Some smartphone devices are thick and heavy and getting a light-weight selfie stick might break it as extended length may play with the momentum. Make sure the light-weight or heavy selfie stick you are buying for your device is able to take the pressure from your device when extended. Camera control and connectivity People don't recognize that selfie stick is more than just a metal stick that attaches to your smartphone. It's more than that. A remote control too! Selfie sticks come with 2 kinds of functions that you can use to snap a picture or start a recording. One of them is the use of Bluetooth. Your device gets connected to the Bluetooth in the selfie stick rod and then with the help of that Bluetooth you can capture snaps or start recording videos. But analytically, Laptab suggests you not to online buy a selfie stick with Bluetooth. It is because these Bluetooth sticks need to be charged and comes with USB cable that can help your in charging the rod. According to Laptab's tech analysts, it is more of a heck because people mostly forget to charge the rod and it is less convenient to take such a selfie stick along that needs to be used patiently as connecting to Bluetooth and charging the rod takes time and additionally the battery of selfie sticks is not usually good. So it is discouraged to buy such a selfie stick. The other selfie stick comes with a 3.5mm Jack that connects into your headphone jack when mounted in the holder. The downside of this 3.5mm Jack is that you (on some devices) cannot record the video's sound. Although this problem can be manually fixed on android devices whilst it has to be dealt if you are using iPhone. After you connect the 3.5mm jack there's a convenient button that you can use to snap pictures and record videos at your convenience. Laptab wishes you a happy buying and prays that whatever you buy; proves to be the best in your favor! Happy Buying!