Things you should know before buying an External Hard Drive.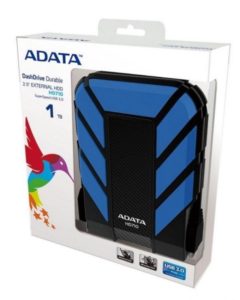 You and many other people around the world use computers and they had been collecting data in the form of media, spreadsheets, documents, software etc. and you know there will come a day when your hard disk is going to be stuffed with lots of data or either way it is going to crash just as it sometimes does. If your hard drive had never crashed then don't expect that you won't lose your precious data. Most computers come with HDD having movable parts that, one way or the other, makes it susceptible to internal damages. However, there is a way with which you can get yourself covered from such anomalies. External Hard Drives are widely used to save data in a portable Hard Drive that can be taken anywhere and can be used/connected with any computer the user wishes to connect to. External Hard Drives are data saviors. Even if you have your hard drive crashed for some reason, you have no worry of losing your data as it is saved in an external hard drive. There are numerous benefits of using such Hard Drives. Firstly, your data remains safe from hacking as sometimes your computer is prone to getting hacked. Secondly, you have your data in your hand that you can take anywhere you want and alter anything you wish. Thirdly, External Hard Drives are less likely of getting crashed as some companies offer exterior and interior shielding of the drive that keeps it safe from shocks and dust/water. But with so many companies in the market claiming to be the best, which Portable Hard Drive you should go for and which one will prove to be the best one for you?
Laptab
urges to tell you the right and wrong and online buy them according to your need.
Which Hard Disk size shall be the best for you?
Hard Disks are available in different sizes starting from 320GB and ranges up to 2TB. The guide to get the right disk size for you is the real matter. If you are requiring a hard drive just to save document files, spreadsheets and presentations then 320GB – 500GB Hard Drive is okay for you. But if you are someone who keeps downloading music and movies and you have no plan at the moment to delete them and you are further downloading them then you need a bigger size. A 1TB would work like a charm but a 2TB is perfect too!
What kind of Hard Disk should you buy?
Hard disks are available in 2 types in the market. SSD (Solid-state drives) and HDD (hard-disk drives). It is of no surprise that both of the types are used for the same purpose, Storing of data. But which one is the right type for you? Well, SSDs are faster drives with no internal movable parts that makes them less prone to the damages and makes them more faster as compared to HDDs. But a drawback of buying an SSD is that they are a bit pricy and you might need to pay 3 times the price of HDD for an SSD. HDDs comparatively serve the same purpose but have movable parts inside and are slower but they are just a right choice for you as they are cheap and widely available in the market. They usually get along most of the time and it is in very rare cases that they tend to get crashed. If you are willing to pay more then
Laptab
would suggest going for an SSD otherwise HDD are the best and widely used alternative.
What qualities a Hard Disk should possess?
The Hard drive you should buy should have a number of features but be aware, as the number of features increases the price of Hard Drive increases too. One of the main features you should look for is that the Hard Drive should have Shock and Water proof casing. This is necessary as HDDs contain movable parts as discussed above so they need extra caring when dealing with them for external use. Some Hard Drives come with extra security features that automatically back-ups your data and provide data retrieval functions. Such built-in functions simply raise the price of Hard drives. Now it depends on you if you really need that function or not. According to
Laptab
, such features are not necessarily needed as they can be installed later through the internet and without any cost at all.
Which Brands are the Best?
There are plenty of brands in the market that you can choose from. For example Toshiba, Seagate, ADATA, Orico, Sony, Western Digital etc. You can get your hands on any brand you feel comfortable with.
Laptab
hopes that this article has helped you in choosing what is best for yo. We wish you a very Happy Buying (: