Yes, You read correctly, "Laptop is not made to use on Lap". As a student or professional, we need to work on Laptops for long hours either for our assignments or professional work. Even Few Professionals like Free Lancers use Laptops on their bed, floor or on their favourite places.  Medical Research has proved that while working Long time on Laptop, you will bear pain in your neck, back, and eyes. The reason for this is poor posture while using Laptop. Laptop on Lap also cause heat ( No air ventilation) which is inimical for both machine and its user.  Here are few tips and treatments to work more effectively on Laptop
Avoid Poor Posture
Poor Posture while working on Laptop is major reason for Back and Neck Pain. We have to slouch, and need to bend our back to watch Laptop Screen. As a professional, we have to work a lot of time on Laptop causing back/should/neck aches. The best solution is Ergonomic posture, that is possible by various
Laptop Stands
in market. These
Laptop tables
are adjustable to different heights, so provide perfect angle of working for long time.
Elude dark eye circles, and headache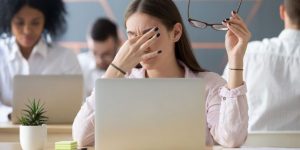 If you are regular laptop user, you must felt strain on eyes, dry eyes, dark circles around eyes, and headache while working long hours on laptop. Its all because of improper eye level between laptop, and eyes.  Ophthalmologists advises that laptop glare screen should be slightly lower than eyes to avoid digital eye strains. Laptop Tables can play their best part for perfect eye level. If you feel early strain in your eyes while working, Specialized
Eye massagers
are easy available online or in market.
Preventing Over-heating Laptop
Another major reason to avoid Laptop use on Lap, is there is Lack of heat Ventilation on Lap that may causes Laptop to be slow and even Burnt. To Improve Machine Performance, we recommend
Laptop stand that have cooling Fans
, not only cool laptop but also enhance its performance.
Enhanced Efficiency, and work Performance.
[caption id="attachment_203" align="alignnone" width="300"]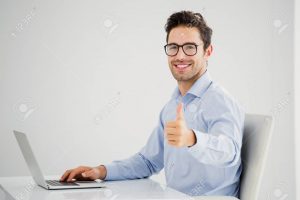 Businessman showing thumbs up while using laptop in office[/caption] Since, its has been established that working Laptop on Lap cause more fatigue, aches, and Poor work performance.
LapDesks
can be best solution for working on Laptop with optimum results and long working hours.
Solution
We at
Laptab.com.pk
are the pioneers of introducing
Laptop tables
in Pakistan since 2013. Indeed it was our first product to Launch, that's why we named our website as LAPTAB(Laptop Table). We have variety of Laptop stands that can be used on bed, sofa, floor including Aluminum and
Wooden laptop table
, with and without Cooling fans and height ranging from 01 feet to 3 Feet. For an expert opinion, please don't hesitate to call/whatsapp  us on 03102004444 or visit
Laptop Stands