Flash Deals
Ends in
23:25:45
164 sold
Sansnail Mini DV WiFi Q7 DVR Wireless Camcoder Video Camera
Rs. 3499 Rs.4500 + Free Delivery
Bought by 118 people! HOT SELLER!
Key Featuers
Support remote viewing online by pc, phone, pad and android phone
5 LED IR night vision
24hours continuous recording with TF card
Description
Laptab brings a fantastic offer to record your important meetings, conversations, and deals in a hidden way through a small mini Camera called Sansnail Mini DV Q7 Camera DVR Wireless Camcorder Video Recorder. It provides a lot of facilities for you to grant you ease and comfort. At the same time, make sure the security and protection of your precious items, places, and also protect you and your surroundings from suspicious activities and people. You can just put the small mini DVR on a particular area and watch all events online on your smartphone, pad, laptop, or computer quickly while sitting in anywhere at any time. You are just connecting the device with Wireless technology and starting to make videos, audios, and snapshots of any doubtful act and get footage for further investigation. You can also enjoy point to point monitoring through your IOS or android phone. Also, Wifi DVR Recorder allows you to record the videos in dim, low, or dark light with 5 LED IR Night Vision quality. Further, you can get the most crucial advantage of making recording 24 hours continuously without any disruption. Just make sure that you are inserting up to 32 GB memory card and charge the device properly. 
Laptab gives more products in Spy cameras such as 
...
Read more....
Our Happy Customers
Images uploaded by customers: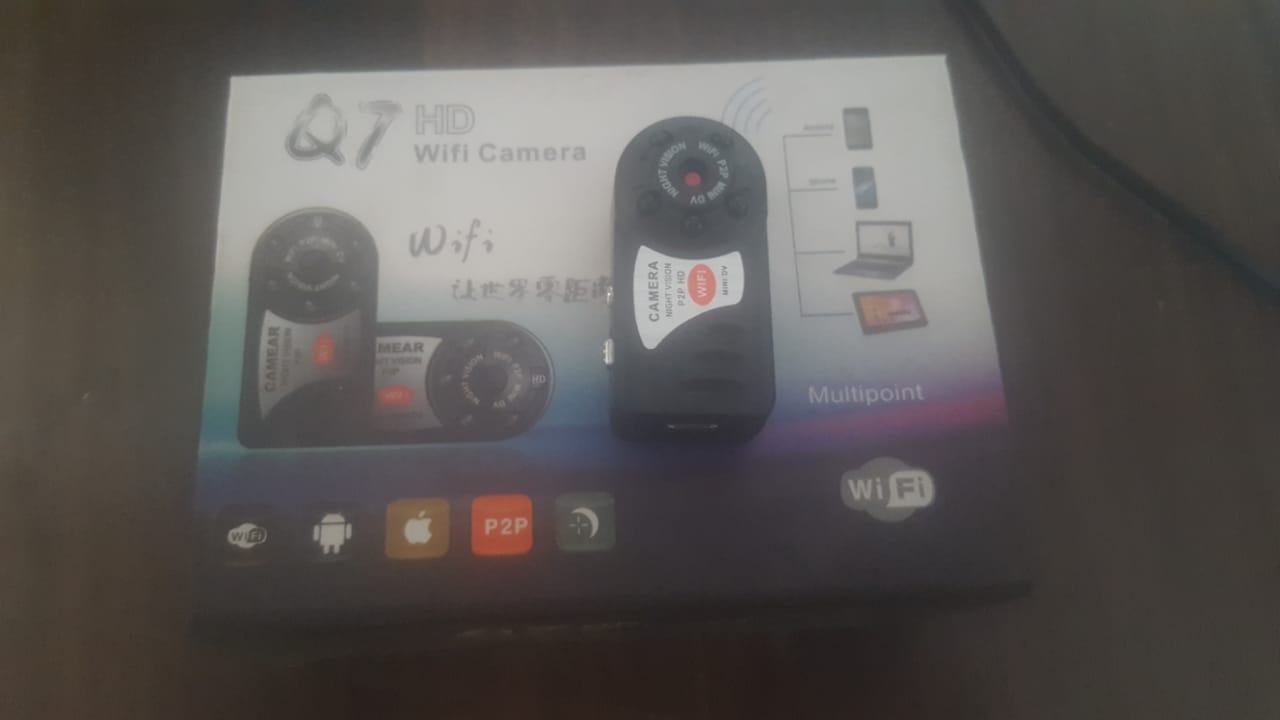 Specification
 The name of the WIFI/P2P network camera
AVI video format
M- JPEG video coding
Remote video resolution 640*480 VGA
Video frame rate of 15fps + 1fps
1/3" color CMOS sensor; 
Antenna 2.4G 802.11n WIFI built-in antenna
Storage support TF card, can be extended to 32G
Playing with or mainstream audio and video playback software operating system
Image ratio 4:3
Support system Windows ISO Android
Charging voltage DC-5V
Micro SD Card memory support (TF Card) 
Battery type high capacity polymer lithium battery
Rating & reviews
Read what others have said about us:
QUESTIONS & ANSWERS
Frequently asked questions
Q:
A: Awaiting reply from the Team
Q:
A: Awaiting reply from the Team
Sansnail Mini DV WiFi Q7 DVR Wireless Camcoder Video Camera
Rs. 3499 Rs.4500
Support remote viewing online by pc, phone, pad and android phone
5 LED IR night vision
24hours continuous recording with TF card